Cover Art by Scott McKowen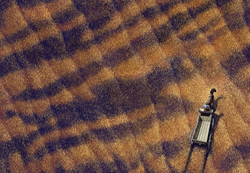 During the summer of 2009, my partner and two friends and I visited the Stratford Shakespeare Festival in Ontario, Canada. Choosing a downtown café at random, we were pleasantly surprised to find ourselves surrounded by theater posters by the award-winning illustrator and graphic designer, Scott McKowen. A trip to the bookstore across the street to pick up A Fine Line: Scratchboard Illustrations by Scott McKowen (Firefly Books, 2009), had me dreaming of his artwork—sometimes harrowing, sometimes funny, often whimsical, but always gorgeous, always smart—for the cover of Dakota, Or What's a Heaven For.
Scratchboard is an engraving medium in which white lines are carved into a black surface with a sharp blade. The finished drawings are then scanned, and the color is added digitally. This technique, which evolved from the traditions of wood engraving and steel engraving, the latter of which was common in the late nineteenth century, perfectly invokes the era in which my novel takes place. I can't believe my good luck in having Scott's artistry greet (and prepare) the readers of Dakota.
---
Illustrations by Megan Eckman
Interior illustrations were common in nineteenth-century popular fiction. These six illustrations are by Megan Eckman, whose work I discovered while browsing in the gift shop of the Plains Art Museum in Fargo. Whereas the cover artist for Dakota, Scott McKowen, has established an international career specializing in theater posters and book covers, Megan Eckman, a native of Fargo, North Dakota, is at the beginning of her career. A recent graduate of Minnesota State University, Moorhead, she specializes in pen and ink illustration. It has given me a great deal of pleasure to offer this young artist her first commission for these website illustrations.